Customizing Your Clubs at 2nd Swing
We offer over 1 Million different customization combinations for both new and used clubs. From hot melt to loft and lie adjustments, and everything in between. We pride ourselves on delivering the best custom-fitting process in the business, but our services do go beyond just fitting. We offer the most comprehensive custom options around. Whether you're getting fit for a new set of clubs, or buying a used set, we want to make sure your clubs match up to your game. At 2nd Swing you can customize any club or any set, in-store or online. We can do it all, change your grips, adjust your lofts or lies, cut down or extend clubs, stamp and grind your wedges, and paint fill clubs.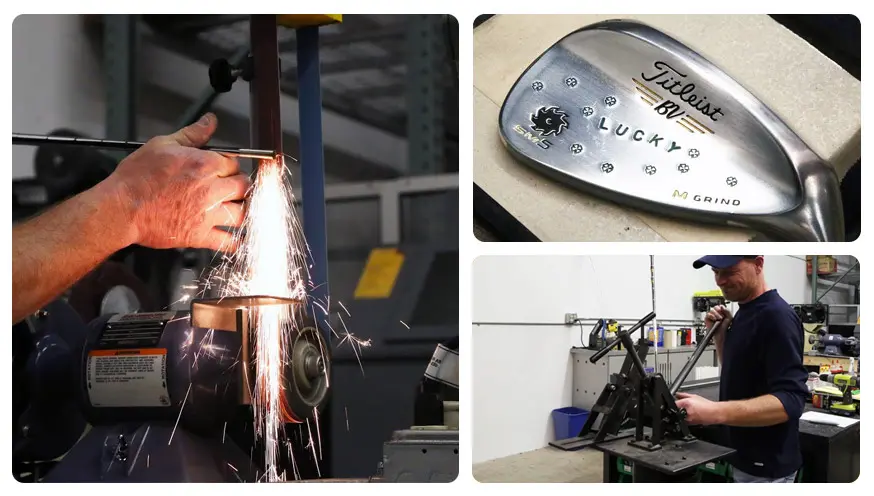 ---
Customize Your Grip
At 2nd Swing we allow you the choice of choosing the grip you want on your clubs. We have a large selection of grips that you can have installed on any club, new or used. That also includes putters, if you want to try your putter with a SuperStroke like Jordan Spieth. We even allow you to choose the number wraps you like to play, even for those that want the Bubba grip: 10 wraps on the top hand and 12 on the bottom.
Customize Lie or Lofts
Do you know if you should play the standard lofts and lies of your set? If you have ever been fit for a set of clubs there is a pretty good chance you didn't get a set at standard. To determine the lie angle that would best fit your game, you can use the PING nFlight Web to get a static fitting, or give one of our certified fitters a call. Once you know what loft and lie angles are right for you, you can customize your iron, wedge, or putter purchase to match your specs.
---
Customize Your Length
At 2nd Swing we can also change the length of any club or set. In years past, manufacturers have increased the length of their clubs to bolster the new distance gains they are offering. Conceptually, having a longer club means you can generate more club head speed which will result in more distance, however the trade-off is control. Having a longer club might not be what you need to improve your game, distance isn't everything, but scoring low is. If you know you play better with a 44 inch driver we can cut down to that length, or add a couple inches so you can be top dog off the tee.
Customize Grind and Stamp It
How is your short game? Do you ever come up fat on a shot or blade the ball? Maybe a custom grind will help you make those shots. Maybe custom stamping or paint fill will inspire the confidence you need to make that next shot. We have the equipment, we have the knowledge, and everything else needed to make your clubs as unique as your game. Not every club can receive any grind or be stamped in the same places, so for this service we simply ask to call our staff to verify that your grind, stampings, and paint fill can be applied to the wedge of your choice and you receive the right price.
---
Upgrade Your Shaft
Manufacturers do a great job of selecting shafts that increase the playability of their equipment, geared toward the standard player. However they offer a lot of other shaft options for the not-so-standard player. When you're buying new clubs from us online we have every shaft that our manufacturers offer, so you can take your game to the next level.
Refurbishment + Repair
At 2nd Swing we can do lot more than meets the eye that includes removing the rattle in your shaft or club head. We can refurbish stainless steel iron heads, which includes grinding out any nicks, sand blasting the faces, and tumbling them. We can also re-shaft your woods or irons, and it doesn't have to be your whole set, if you break your 9 iron we can re-shaft that single club.
---
Advanced Options
We have also offer additional advanced customization options. We have the ability to hot melt driver heads. We can change the swing weight of your irons and woods, which will increase the swing weight internally, instead of externally. In addition, we can also build your clubs, so if you happened to have a set of iron heads, we can build the set for you whether or not you have the other components, we can get them and build a set to your liking. For any of our advance services we would simply ask you to call our online staff to determine a price and timeline for completion.
ADDITIONAL SERVICES:
In addition to our refurbishment programs, we offer many additional customization services for your clubs. When your getting your clubs serviced, you might want to add on these services to increase the life of your new club.
Loft / Lie Adjustment: $5.00/club
Regrip: $3.00 plus grip
Custom Stamping (9 letters): $25.00
Paint Fill: $10.00
Custom Grinds: $50.00/club
Reshafting: $25.00/club - Sets up to 8 irons/$150.00
Pull Shaft: $15.00/club
Hot Melt - Drivers / Fairways: $35.00
We also offer a club restoration for some club types.
VIEW RESTORATION DETAILS.

Question? please call (612) 216-4152 Ext:1